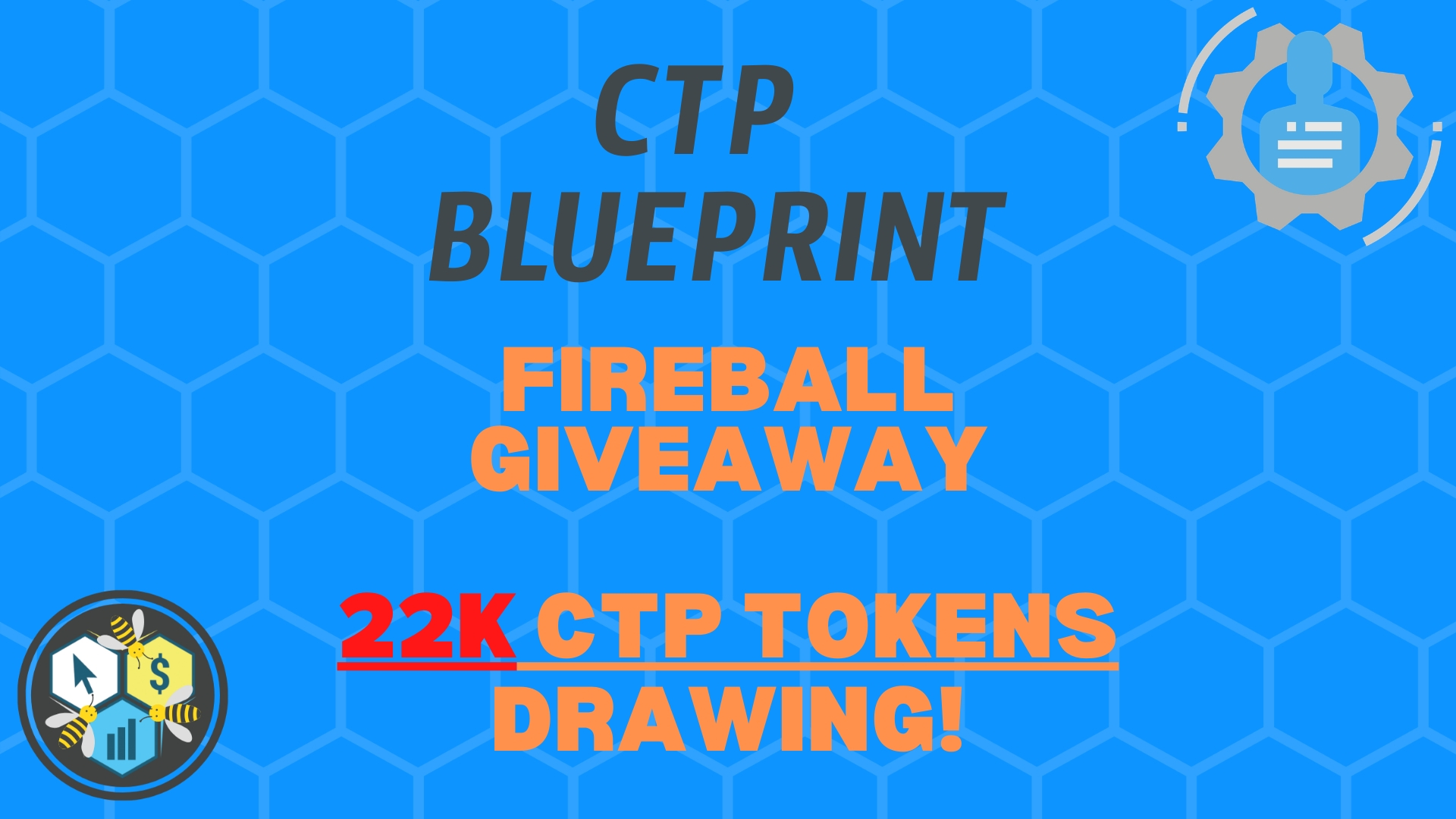 Last night was EPIC!
If you want to know more in detail what happened on Crypto Mondays with @jongolson, @blainjones and me you can check the recording here:
https://www.facebook.com/ClickTrackProfit/videos/1341380772719382/UzpfSTE4Njc2OTUwMTQwMzAxNjozMTI3NTQ1MzAzOTkyMDcz/
Some of you know that CTP Blueprint turned 1 Month yesterday and it has been a blast!
There's still a lot to work on but the love and support that the CTP Swarm is giving me makes me stronger and keep me up to continue to work on the program to provide the best service ever to my members!
As a thank you, I decided to throw a very special and epic giveaway!
At the start was a 10K CTP Tokens drawing, which was big already!
BUT WAIT!
@blainjones decided to fill up the pot and added 5K!
@jongolson wanted things even and added another 5K!
AND THEN!
@robwillmann added an extra 2K!
HOLY COW!
22K CTP Tokens are in to lift up the game even more!
Now I can increase the amount of winners do the drawing!
Instead of 7, there are now 10 lucky members with a chance to grab a share of this pot!
Here are the prizes:
1st Place – 7000 CTP Tokens
2nd Place – 5000 CTP Tokens
3rd Place – 2000 CTP Tokens
4th Place – 2000 CTP Tokens
5th Place – 2000 CTP Tokens
6th Place – 1000 CTP Tokens
7th Place – 1000 CTP Tokens
8th Place – 1000 CTP Tokens
9th Place – 500 CTP Tokens
10th Place – 500 CTP Tokens
WOOHO!!
So, how can you get entries for the drawing?
Just simply taking action!
The more entries you get, more chances to win!!
Here are some of the actions:
1 Entry for login in CTP Blueprint daily
5 Entries for providing valid and valued engagement on my CTPTalk posts and CTP Blueprint Facebook
20 Entries for every dollar spend
10 Entries per active referral
10 Entries for every dollar a referral spends
500 Entries extra by subscribing to the Videos Membership
I will also been checking on your content any now and then and will manually giving you extra entries so make sure your content and titles are creative to grab my attention and some other things that you can do that might be worth of an extra entry or two!
Speaking of entries, I just want to kick start giving entries to one of my Members:
@lisamgentile1961 – Lisa got most referrals last month!
Lisa you will get 25 extra entries for your effort! Good job and thank you!
Make sure you bookmark this page to check on the rules and prizes and other goodies: https://ctpblueprint.com/content.php?page=fireball
The Entry Leaderboard will be inside so make sure you login to check where you're at!
The party will be ongoing until the end of July!
Plenty of time to grab as much entries as you can!
Stay tuned for posts and Emails 🙂 those might have some ways to get entries as well!
Thank you so much for exerything!
LET THE GAMES BEGIN!!
Happy Tuesday!
---